Archive for the 'OAS Fundamentals' Category
What you don't know about the American Spring movement
On Thursday's radio program, Glenn encouraged his listeners to take a look into the history of the Spring of Nations that spread across Europe and Latin America in 1848. Karl Marx's Communist Manifesto planted seeds of dissent all around Europe, but it was first published in German on February 21, 1848 and within days insurrection ensued. Fast-forward to today, and a group called Operation American Spring is marching on Washington D.C. On radio this morning, Glenn warned against the dangers of a "spring" movement. more…
COMMENT: When Operation American Spring (OAS) is successful, Glenn won't be needed anymore. Him and others make money keeping us divided while OAS works to unite Americans.
My response to this show on Glenn's website keeps getting deleted. Here it is below:
Glenn this is how violent we are. I am a member of Operation American Spring (OAS) and have spent many hours praying on The Mall, one on one, with and for members of OAS and Rolling Thunder. I have seen lives transformed on the Washington D.C. Mall and believe, other than accepting Jesus Christ as my Lord and Savior, the marriage to my beautiful bride and the birth of my two children, that the experiences on the Mall have been the most meaningful of my life (I am a 15 year Army veteran).
I witnessed a young black teenager confront members of our group, labeling us as Racist, then come back day after day listening to our message and ended up joining our ranks, saying; "I want my friends and family to join in this movement as well". At the end of the day today in front of the Air and Space museum, I offered him the megaphone and he said to me with a trembling lip; "I have never spoke to a group like this before". I told him it would be ok and reassured him he was among friends. He, as well as anyone in OAS, outlined the problems with Government today; "They don't care about us…" Thank you Melvin!!!
Call COL Riley Mr. Beck, you have his number. I believe you have it all wrong; Operation American Spring is about mass and getting 30 million American's to wake up from their stupor and to give a damn. We knew that day one we would not have 30 million but believe that as time goes on and our message of accountability from our elected leaders will resonate with Americans and that they well respond. I tell our members at our rally site before protesting at the Capitol and White House; "that we first need to change our hearts before we can expect change out of our elected leaders", and I paraphrase Matthew 7:5, "You hypocrite, first take the log out of your own eye, and then you will see clearly to take the speck out of your brother's eye. People are responding to our message, and I believe in the end we will have a great spiritual awaking in this country like never before. This is what a Spiritually and Constitutionally armed movement looks like.
Members of the Park Service and Capitol Hill police as well as uniformed Secret Service have been helpful and ensured the safety of our members; hats off to them. I know they have a tough job and I respect them for protecting our elected officials.
Alex Coffey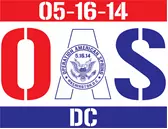 I will abide by all laws written in compliance with our Constitution, and with respect to my God-given rights.

I will conduct myself in a manner honoring our Founders, my Heritage, and my Fellow Americans.

I will act with reverent respect to all those who have fought, and have fallen before me, in defense of LIBERTY.

I WILL PERSEVERE, WE WILL PREVAIL!
We will see you May 16th, 2014 for the Peaceful Protest that will Restore our Constitutional Republic.

Colonel Riley Speaks to the Surprise Tea Party Patriots 2-4-2014
TO: All Patriots (male, female, civilian, military, truckers, bikers, militias, veterans, old, young, every American that loves freedom and liberty)
Mission: Restoration of Constitutional government, rule of law, freedom, liberty "of the people, by the people, for the people" from despotic and tyrannical federal leadership.
Assumptions:
Millions of Americans will participate.
American veterans and patriots are energized to end the tyranny, lawlessness, and shredding of the US Constitution.
Government is not the target, it is sound; corrupt and criminal leadership must be replaced.
Those in power will not hesitate to use force against unarmed, peaceful patriots exercising their constitutional rights.
Patriots may be incarcerated, wounded or god forbid; killed.
There is no hope given today's technology of secrecy for the effort nor do we want it secret.
Concept of Operations:
Phase 1 – Field millions, as many as ten million, Patriots who will assemble in a peaceful, non-violent, physically unarmed (Spiritually/Constitutionally armed), display of unswerving loyalty to the United States of America Constitution and against the incumbent government leadership in Washington D.C., with the mission to replace with law-abiding leadership. Go full-bore, no looking back, steadfast in the mission.
Phase 2 – One million or more of the assembled must be prepared to stay in D.C. as long as it takes to see Obama, Biden, Reid, McConnell, Boehner, Pelosi, and Attorney General Holder resign or be removed from office.
Consistent with the US Constitution, as required, the U.S. Congress will take appropriate action, execute appropriate legislation, deal with vacancies, or U.S. States appoint replacements for positions vacated consistent with established constitutional requirements.
Phase 3 – Principled leaders such as, Former Representative Allen West, Senator Ted Cruz, Doctor. Ben Carson, Senator Mike Lee, Former Senator Jim DeMint, Senator Rand Paul, Governor Scott Walker, Senator Jeff Sessions, Representative Trey Gowdy, Representative Jim Jordan, appointed by their peers, would comprise a tribunal and assume positions of authority to convene investigations, recommend appropriate charges against politicians and government employees to the new U.S. Attorney General appointed by the new President.
*All actions in Phase 2 & 3 will be consistent with the U.S. Constitution.
 Date of Operation: "OPERATION AMERICAN SPRING – Beginning Of Tyranny Housecleaning, May 16, 2014, completion to be determined
We are past the point of no return, thus must move forward with an effort to save our nation, as there is no other choice. We are asking, pleading with you, and any others that have resources, national voices, email lists, blogs, FB, Twitter, to call for a non-violent American Spring May 16 2014 in Washington D.C. We must appeal to ten million and more American patriots to come and stay in Washington, D.C. to stop the White House and Congress from total destruction of the United States. It's now or never. God help us.
…..the law of nature rules. A fluffy, cuddly lamb gets eaten by a mean old wolf is not an illegal or immoral event…the law of nature. When some greedy, self-serving occupant of the White House or Congress, or elements outside America, is threatening our existence, our freedom, our liberty, our Constitution, our life resources, our America, then we fight back to destroy the threat and there is nothing immoral or illegal about it. When the government becomes lawless, then "We the People" no longer are obligated to follow the government……there is no law when government picks and chooses for political purposes or personal agenda. At this time the government is performing as a lawless entity……
A duck cannot be turned into a fox; an elephant cannot be turned into a flea; the laws of nature will not permit. Likewise, a nation ordained and principled by the laws of nature, sovereign, free, with liberty for all cannot naturally become a nation guided by royalty, decrees, tyranny, elitist, self-serving criminals. The former has proven desirable, the latter has proven human pain.
"We can become a nation guided by royalty IF "We the People" beguiled by the government in surrender to our lusts for that which we have not earned –for what is not natural –if we have become intoxicated by unbroken success" as Lincoln proclaimed in March 30 ,1863 call for fasting, humiliation, and prayer–we can very easily heap to ourselves leaders, and with itching ears, be turned from the Truth to become enslaved by the LIE."
The United States of America (elephant) while embracing the "LIE" is teetering on the abyss of becoming a sniveling, blood sucking, undesirable nation (flea).
OPERATION AMERICAN SPRING will be a gigantic step in removing the flea infestation that is sucking the blood out of America.
We see no reasonable, hopeful sign that indicates there are honorable, loyal, mature, critical thinking, experienced people in government that understands the chaos about to rain down on America, nor do they care….our only hope is that "we the people" call, organize, and draw a few million patriots to stay in D.C. for an "American Spring". It would be the catalyst to draw the line and bring to a conclusion a decision on the out of control government, one way or the other. America will rise up or surrender………for me, I only go to my knees in the presence of God Almighty………..my knees will not touch the surface as a result of some piss ant occupant of the White House or a corrupt legislator, or outside element…I will fall to my death standing if necessary.
There is not much time and the only planning necessary is to select a starting date, which we have done, and then show up in Washington, D.C. on that date, and plan to stay for the duration. The goal is restoring the United States of America Constitution as the law of the land, removing the lawless leadership. Will this be a cake-walk? No, it will be painful, and some people may die because the government will not be non-violent; some of us will end up in a cell, and some may be injured. If that's what it will take to save our nation, do we have any choice?Freedom loving Americans will say there is no choice, we must begin the second American Revolution. Not with guns, but with millions of Americans demanding a return to constitutional government and the resignation of Obama, Biden, Reid, McConnell, Boehner, Pelosi, and Holder as a start…then the constitutional restoration process can begin. An AMERICAN SPRING can be avoided only if the above mentioned officials resign.
Will our national patriot leaders step forward and declare, "Send Me!", I'll lead? There are millions of veterans and patriots ready to follow and have said "I will go".
I urge all organizations, groups, particularly veterans and military retirees begin planning to visit Washington, D.C beginning May 16, 2014. Keep tuned to oas2014.com for updates and guidance.
Please bathe this effort in prayer as there is no personal agenda or gain save liberty, freedom, and restoration of constitutional government for "We the People".
Harry Riley, COL, USA, Ret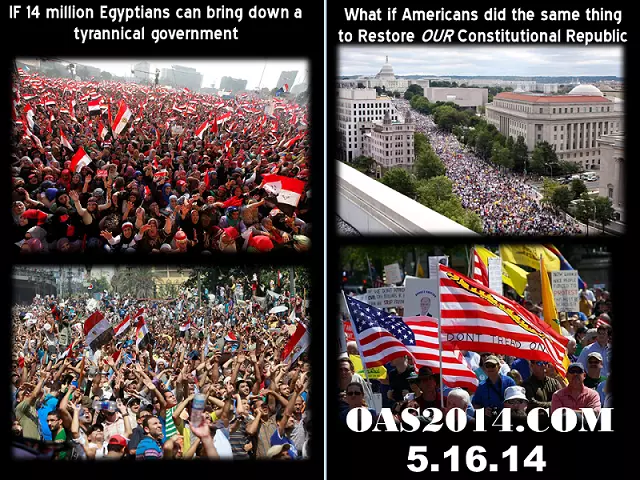 The ABCs of OAS
Operation American Spring (OAS) is the legitimate offspring of our American culture—born of circumstance and God-given right. OAS is an equal-opportunity effort to participate in the uniquely American experience—one that may not come along more than once in several generations. To participate in OAS is the quintessential American experience, a peaceful transition back to our Constitutional constraints.
The vision behind OAS is founded in our Declaration of Independence: "But when a long train of abuses and usurpations, pursuing invariably the same Object evinces a design to reduce them under absolute Despotism, it is their right, it is their duty, to throw off such Government, and to provide new Guards for their future security", simple, easy to understand, though not quite as easy to execute—but absolutely necessary to maintain a viable working relationship between government and the governed.
How we got into our current predicament is not as important as determining how we can best return to our rightful path. There have been many efforts and measures taken to right our ship of state, yet our downward spiral continues, without abatement. Our unresponsive bureaucracy stays focused on their own self-interests, feathering their beds—and those of their friends and family—at our expense. Many of those same bureaucrats have sold their allegiance to divergent governing philosophies, and use distractions and obfuscations to cover their treasonous acts.
But America is waking up. The Emperor's clothes are becoming increasingly transparent as our so-called leaders' feet of clay stumble and turn. Deep within the bosom of America is that burning spirit of rugged individualism, struggling to recover from decades of somnolence and diversion.  The light from that fire is regaining its former brilliance, giving true hope to all and shining brightly on the path to our rebirth.
OAS is step one on that path and it beckons for all with the born-again vision of what America was, is, and will once again become. Just as history makes note of every significant step in the right direction, OAS has the potential to join them all as the start of the First American counter-revolution, fighting back against the invasion of totalitarian socialism—communism—an insidious perversion of governance that leaves every nation it touches, a heap of ash and despair.
And in this fight, America will prevail. We will succeed because we have strong men and brave women who understand the value of our Liberty. We will triumph over our enemy, as we always have, because our enemy will underestimate our commitment, and the power God grants us to overcome all odds.
It is said, 'One man with conviction, is a majority.' If that is true, a few million American men and women, washed in the blood of their heroes and champions, fueled by their passion for liberty, and willing to make the sacrifice today for all of us to live free tomorrow. This is the definitive opportunity for every American to participate in correcting the course of history. For those who can—must be there, May 16, in DC. For who can't go, help those who can with money, accommodations, transportation, and meals. For those who can't go and haven't the means to help—talk about OAS to friends, neighbors, even complete strangers. And lastly, for those who can't go, help, or speak—your prayers are always needed and welcome.
For more information visit: OAS2014.com
Written by:  Terry Trussel
Graphics courtesy of:  OAS Graphics Team